World Snow Overview
We've created this page to help you find the best snow conditions. It combines past, present and future data sources from around Snow-Forecast.com and updates regularly. The Snow Roundup page is updated on Mondays and Thursdays for all major ski resorts. Live Eyeball snow updates are shown in real time when submitted via twitter by our global network of reporters. Resort Picks lists ski resorts from around the world where new snow is forecast, powder is reported and latest snow depths.

SNOW NEWS UPDATED 27 FEBRUARY 2017
INTRODUCTION Austria was providing some excellent skiing today with predominantly sunny skies. The snow was varied, tending to be more packed at the top and softer at the bottom. More snow is set to hit resorts this week, starting tomorrow.
AUSTRIA There was plenty of really good skiing in Austria on Monday 27th of February and with more snow on the way this week, things are set to get even better. There were some really excellent conditions in the Kitzski area, with both Kitzbuhel (65/95cm) and Kirchberg (65/95cm) in great condition. The slopes up high were packed and grippy and looked a real treat. There were spring conditions at the bottom and the sun dominated despite a few clouds. Conditions were equally good in St Christoph (60/180cm) and St Anton (60/180cm) mainly thanks to the new snow. The powder is mostly tracked out by now but the great on piste conditions make up for it. More snow is forecast over the week starting tomorrow. It was a beautiful day to be skiing in Damuls/Mellau (70/115cm) today with slopes in very good condition and the sun shining overhead. The Mittagsspitze peak and the surrounding slopes were looking particularly good. All things considered, Austria provides an excellent option at the moment.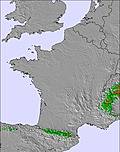 FRANCE Monday 27th of February was the calm before the storm in France, which is awaiting the arrival of a storm tonight. There are some interesting conditions in Le Corbier (45/115cm) where resort runs were looking more like what you would expect to find in the Pyrenees in April, spring snow with brown patches. The snow is much better at the top, but it nonetheless reflects the frankly bizarre season we are having in the Alps this year. Resort runs are also suffering in Les Orres (60/120cm) where slopes are surrounded by mud and grass. Still, the snow looks soft and grippy so it's not as bad as it could be. There are similar conditions in Orcieres (15/90cm) and Pra Loup (25/145cm). The coming snowstorm, which starts tonight, should address some of these issues with loads of new snow forecast. It will start snowing this evening, with Chamonix (20/215cm) getting around 20 cm tonight with heavy snow continuing into tomorrow. Other hot spots include Les Deux Alpes (40/160cm) and Alpe d'Huez (90/160cm) with La Grave (40/190cm) also on track for a rejuvenating snowstorm.

SWITZERLAND Monday 27th February was a mostly stable and spring like day in Switzerland. Last week's snowfalls have lightly refreshed the pistes and current on snow conditions are very enjoyable, although far more spring like then we would normally expect for February. Clouds will increase later this evening as Switzerland heads into a week of much needed snowfall. Tuesday will see widespread moderate to heavy snowfalls at all of our featured Swiss resorts. Expect powder and storm skiing conditions to remain all week before another round of heavy snowfalls over the weekend.

ITALY Monday 27th February was a mostly stable and consistent weather day in Italy. After some light snowfalls at the end of last week many of our featured ski resorts and are in excellent shape. Spring conditions were in abundance today as temperatures stayed above freezing in all but the high altitude ski areas. Cloud cover will increase this evening as Italy heads towards heavy and widespread snowfalls. Tuesday is forecast to see some very heavy snowfalls with many resorts expecting to see half a metre or more of fresh snow. In fact, the only area where snowfalls will be light is in the far south Milky Way area. The snowy wintery conditions will remain intermittingly this week before heavy snowfalls are forecast to resume at the weekend. Expect powder skiing conditions in Italy by the weekend.
ANDORRA Monday 27th of February was another beautiful day in Andorra as conditions remain more like late spring than mid-Winter. The snow cover is still good despite slopes lower down softening up fast in the strong sun. There could be a dusting of fresh snow over the next 6 days, but no more powder days for a while by the looks of things.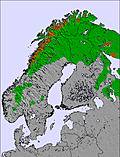 NORWAY/SWEDEN Monday 27th of February was a great day for skiing in Scandinavia amid much improved conditions recently. The best conditions were probably in Geilo (60/85cm) and Voss (65/95cm), which have had lots of new snow over the last few days. It was a cloudy day with some sun and plenty of excellent skiing in both resorts. There has also been some new snow in Hemsedal (25cm) and improved conditions as a result. Pistes have been freshened up by a respectable 5cm and the snowy trees have given the resort a much more wintery feel. It was also a nice day weather wise with majority sunshine. It's not just the Norwegian resorts that are having a great spell at the moment, however, as both our featured Swedish resorts are in excellent shape. Both Are (78cm) and Salen (85cm) have had fresh snow meaning powder can be found off-piste.

GERMANY Monday 27th February was a variable day for skiing in Germany. After a weekend with light snowfall and some rain our featured German ski resorts are looking a little worse for wear. Berchtesgaden (2/70cm) and Feldberg (10/20cm) are currently fairly patchy, particularly on the lower runs. Elsewhere in Garmisch (10/45cm) and Oberstdorf (15/80cm) things are better: sprinp conditions are still providing some good skiing and the snow cover is holding much better. Moderate to heavy snowfall is forecast for Tuesday and Wednesday this week, which could be a saviour for the rest of the season. Temperature will be the main impacting variable as heavy rain will most likely force the closure of some resort runs. An interesting weather week lies ahead for many German resorts.
BULGARIA There was plenty of good skiing in Bansko (70/150cm), though a bit more snow wouldn't go amiss. Runs at the top were packed and generally in good condition, but lower runs were more spring like. Over in Borovets (130/155cm) and Pamprovo (65/80cm) conditions remain good: packed at the top and soft and spring like at the bottom.

SCOTLAND Limited skiing was available in Scotland today, Monday 27th February. Cairngorm (5/20cm) and Nevis Range (15/25cm) were both open for skiing under changing skies. Snow quality is fresh but the cover is thin and patchy in places. The week ahead will see some light snowfalls but this may not be enough to keep ski areas open.

USA Monday 27th February was another excellent ski day in America. After a weekend of moderate snowfalls, many resorts, particularly in the west, are looking great. Most resorts are offering either fresh snow or powder snow conditions today. The week ahead will see light snowfalls and more sunshine than in recent times. Timberline (356cm) will see the most snowfall with just less than two metres forecast by Friday.

CANADA Monday 27th of February was another terrific day in Canada in what has been a super season so far. Banff resorts were in great condition today with a dusting of new snow over the weekend. The windblown snow has generated some really good conditions in the back bowls at Lake Louise (120/177cm), so the tip of the day is to head there where you can ski some tremendous, soft powder. There were powder weekends in Big White (210cm) and Fernie (270cm) and you can enjoy another one today if you are near either of these resorts. There were some worse conditions to report in Mont Tremblant (100cm) where a cold night has generated some tough conditions across the mountain. Groomers have been working hard but a fair amount of the resort will remain closed today.

EUROPEAN WEATHER OUTLOOK It is set to be a complicated week for The Alps. Much needed heavy snowfalls will start late on Monday (27th) night and remain all day Tuesday, tapering off by early Wednesday morning. The heaviest snowfalls will be in France and Italy, but no matter where you are skiing in The Alps there will be fresh snow. Strong winds at altitude are forecast, so some ski areas may experience limited lift operations at times. It will be an excellent but challenging week of skiing ahead for the Alps in what can only be described as varied and complex season so far. This weekend may see another round of heavy snowfalls, mostly on the southern and eastern sides of the Alps. Check back Thursday for a more comprehensive overview of upcoming conditions. Elsewhere, snow is expected in the Pyrenees on Thursday, but not as heavy as what we will see in The Alps. Tuesday will see light to moderate snowfalls - Not enough to call a powder day but certainly enough to make on-piste conditions excellent. Further north in Scandinavia, another typical weather week lies ahead. Light snow falls and fairly dull overcast skies will be the dominate feature. Temperatures will remain slightly below freezing creating most soft snow conditions.

NORTH AMERICAN WEATHER OUTLOOK Snowfalls have been consistent and kept things ticking over the last 6 days but things are set to ramp up (yet again) with major snowfalls forecast this week. The hotspot this season has often been California, but this week it is British Columbia and Washington that are going to be hit hardest. Whistler, for instance, is predicted to get around 80cm. The weather then is set to remain cloudy or snowy for most resorts this week.