World Snow Overview
We've created this page to help you find the best snow conditions. It combines past, present and future data sources from around Snow-Forecast.com and updates regularly. The Snow Roundup page is updated on Mondays and Thursdays for all major ski resorts. Live Eyeball snow updates are shown in real time when submitted via twitter by our global network of reporters. Resort Picks lists ski resorts from around the world where new snow is forecast, powder is reported and latest snow depths.

SNOW NEWS UPDATED 27 APRIL 2017
INTRODUCTION Fresh snow continued to fall across Austria on Thursday 27th April. Around 5-20cm was accumulated overnight across our featured resorts, providing some great skiing conditions up high. The current weather is set to move over by Saturday, meaning that there should be plenty of fresh lines to be had on quiet slopes over the weekend.
AUSTRIA As the season comes towards its end in Austria, it seems that winter will continue for a little while yet. Fresh snow has been falling across the resorts that remain open, and temperatures have been as low -5C in some places, meaning that conditions up high are excellent for the time of year. Around the Obergurgl region, which is where the majority of our featured resorts are still operating, there has been around 5cm of new snow for Kaunertal (127/194cm), and 20cm for Obergurgl 25/120cm). Although visibility was limited on Thursday due to the continuing snow and cloud, once the current front moves over skiers are likely to find a nice mixture of packed powder on piste and great areas of untouched snow off to the side. Elsewhere, Kitzbuhel (0/70cm) in the Skiwelt was still running 4/57 lifts on Thursday, and received 6cm of new snow overnight. However, whilst conditions up high continue to improve, the lower runs to resort remain closed. Over the remainder of Thursday and into Friday more snow is forecast, and Hintertux (70/235cm) could receive 85cm. The weather is then expected to change on Saturday as a band of high pressure starts to creep in.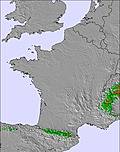 FRANCE Lots of fresh snow was falling all around the French Alps on Thursday 27th April. With a lowering freezing level and heavy snow falls continuing, many French mountain villages are looking very Christmas like. On snow conditions are generally fresh, although the lower slopes are still very spring like. Up top powder conditions are abundant, however, poor visibility and limited lift access is keeping the options restricted. The current snowy and cloudy weather will break for the weekend, presenting an excellent chance to get in one last lift access powder day for the season. Many resorts will be closed next week, but there is still loads of fresh snow in the forecast. With a good knowledge of the avalanche problem, touring conditions will be exceptional well into next weekend.

SWITZERLAND Temperatures remained cold at around -2C in Switzerland on Thursday, and fresh snow has fallen at resorts that remain open. Visibility was largely limited as snow continues to fall up high, but conditions on the upper slopes are improving all the time. In Adelboden (0/60cm) 10cm has fallen in the last 24 hours, whilst nearby at Gstaad (0/455cm) there has been around 15cm on the upper mountain. Lift numbers are limited at both resorts due to the tine of the year, however, if you do head up you can expect to enjoy some quiet slopes. The best skiing can be found around the Matterhorn region, where only 6cm has fallen at Zermatt (0/155cm), but across the border in Italy there has been a lot of snow at Cervinia (30/235cm) Pontresina (6/102cm) looks one of the best placed resorts to benefit from the snow that is forecast to fall over the next couple of days, and total accumulations could amount to around 75cm by Saturday morning. Over the weekend we should see a change in the weather, with sun and warmer temperatures predicted to replace the current cloud.

ITALY Loads of fresh snow has fallen upon our featured Italian resorts this week. Thursday 27th April was a day of limited access powder skiing in Val Senales (0/110cm) and Livigno (83/115cm). Both resorts received between 35 and 45cm of fresh snow in the past 12 hours and well over half a metre in the past 24 hours. With limited options to ski below 2500 metres it is worth noting the currently very high avalanche risk further up the mountain. Conditions on snow are excellent, however, the prevailing weather is still offering very poor visibility and at time strong winds gusts. Current cloudy/stormy weather seems set to continue into the weekend, although the heavy snowfalls should start to taper off over the next 24 hours. The weekend should offer a chance to score some excellent last season lift accessed powder.
ANDORRA Skiing has now concluded in Andorra for the 2016/17 winter.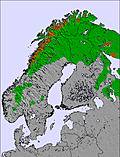 NORWAY/SWEDEN Thursday 27th April Generally good skiing conditions on offer today for our featured Scandinavian resorts. In Norway there has been light snowfalls this week, not enough for powder skiing but certainly enough to keep the pistes in fresh condition. The prevailing weather was pleasant today, but it is going to get significantly sunnier over the weekend with a strong high pressure moving into the area. In Sweden conditions are more spring like. On snow in Are (62cm) the skiing is fun and forgiving under partly cloudy skies. In the forecast the normal trend of fair weather will continue over the weekend.

GERMANY Light to moderate snowfall continued in Germany today, Thursday 27th April. Powder skiing is currently an option at our featured resorts but conditions are far from ideal. Limited late season lift access, very poor visibility, and wet heavy snow made for an unfavourable mix of conditions. The currently moderate snowfall is expected to increase to heavy snowfall in the next 24 hours. The weekend will bring ideal sunny weather and potentially excellent powder conditions early Saturday morning.
BULGARIA Skiing has now concluded in Bulgaria for the 2016/17 winter.

SCOTLAND Skiing has now concluded in Scotland for the 2016/17 winter.

USA Only a handful of our featured resorts in the USA remained open on Thursday 27th April, but fresh snow has fallen in California and Colorado and there is some fantastic skiing to be had Arapahoe Basin (170cm) received 10cm of new snow, and Loveland (170cm) measured 3cm, as they head towards a weekend with yet more snow in the forecast Mammoth (457/812cm) continues to boast a massive base depth, and was enjoying a day of sun and cloud with temperatures of around +6C. Over at Squaw Valley (231/645cm) 17/40 were running and it was a lovely day under sunny skies.

CANADA Fresh snow continued to refresh the pistes today, Thursday 27th April. It has been a fantastic week of skiing in Banff resorts with around 15cm of fresh snow each day. Today offered excellent late season skiing conditions in Whistler (254cm) also with light snowfalls in the high alpine. Conditions will remain cloudy and snowy into next week, snowfalls will only be light however.

EUROPEAN WEATHER OUTLOOK Across the central European Alps, snow and cold temperatures are forecast to stick around until Saturday. Accumulations of snow on the upper slopes could be huge for the time of year, with some Swiss resorts predicting around 80cm over the course of today and Friday. By the weekend the snow is predicted to subside in many regions and a mixture of sun and cloud is expected for much of Austria, France, Italy and Switzerland. In the Pyrenees, Saturday should be the pick of the day for any skiing in Andorra. Our featured resorts are now closed for the season, but for anyone strapping on their skins, you can expect a mixture of sun and cloud, with temperatures around +3CIn Germany, 44cm of fresh snow is being forecast for Garmisch (0/380cm), who will be in disbelief at the moment for all the snow they have received of late. Further north you can expect temperatures of around -3C and snow showers in Norway, which are set to continue right through to Sunday for resorts such Trysil. Across the border in Sweden, the weather should be fairly similar, but any snow that does fall is likely to be light and bring only 1-2cm. Despite some recent biting temperatures and cold winds in the UK, any snow that does fall on the Scottish mountains is most likely to be on Thursday. Thereafter, rain could destroy any hopes of some late season turns.

NORTH AMERICAN WEATHER OUTLOOK Snow is on the forecast in North America. In the USA, accumulations in Colorado should vary between 10-20cm in Colorado over Thursday and Friday, and then into the weekend precipitation should be lighter. In California the forecast is for sun right into next week. In Canada the snow is set to be heaviest over Thursday and Friday, and thereafter taper off into lighter snow showers or rain during the week as the temperature begins to rise.k as the temperature begins to rise.