World Snow Overview
We've created this page to help you find the best snow conditions. It combines past, present and future data sources from around Snow-Forecast.com and updates regularly. The Snow Roundup page is updated on Mondays and Thursdays for all major ski resorts. Live Eyeball snow updates are shown in real time when submitted via twitter by our global network of reporters. Resort Picks lists ski resorts from around the world where new snow is forecast, powder is reported and latest snow depths.

SNOW NEWS UPDATED 20 AUGUST 2018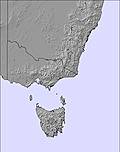 INTRODUCTION For those seeking great conditions and fresh snowfall, our Antipodean resorts are where you want to be, many Australian resorts are seeing the best season in a decade, while continuing top ups of snow have kept our New Zealand resorts in fantastic shape.
AUSTRIA Hintertux (0/75cm) saw a mostly bright morning on Monday 20th August, with some cloud in the skies and temperatures around 5C, though a continuing drop in reported base depth. Extreme weather forced Molltal Glacier (0/190cm) to close for the day. Skiing at Dachstein, Kaprun, Kaunertal, Pitztal, Solden and Stubai Glacier is not currently available.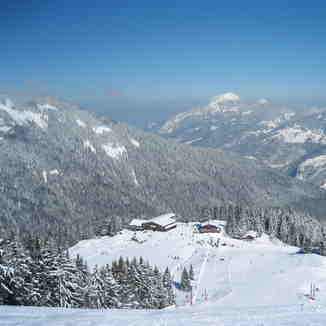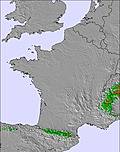 FRANCE There was good visibility over Les Deux Alpes (0/150cm) with high cloud in the skies but good light and visibility. There was little visible change in the slope conditions - the park looks in good shape still, with plenty of skiers on the slopes. No other glacial skiing was available in France currently.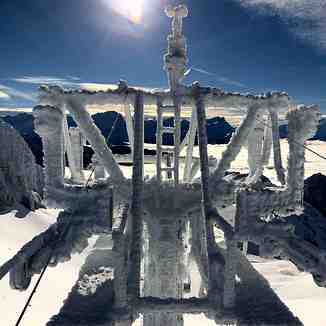 SWITZERLAND It was a beautiful day in Switzerland as with much of the rest of the Alps, with Saas Fee enjoying a beautiful bright day on Monday 20th August, with the snow broadly looking in good shape. Zermatt (300cm) saw similarly favorable weather, with a mix of sun and cloud in the sky.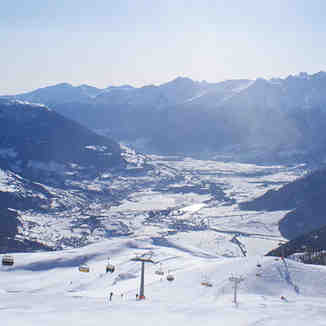 ITALY Four lifts above Cervinia (0/120cm) provided access to the glacial ski areas, with beautiful conditions on the Plateau Rosa offering some enjoyable skiing, although a slowly diminishing snowpack. Passo Stelvio (0/190cm) saw similarly pleasant weather, although pistes looked to be in rather poor shape.

NORTH AMERICA Timberline (0/30cm) was our only featured summer resort in North America, where lifts are running from 7am-2pm serving the Palmer glacier.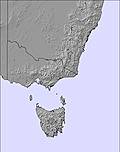 AUSTRALIA Little has changed in Australia, and this is very much a good thing given that they have been having arguably the best season in a decade. 15cm of overnight snow takes Falls Creek (190/249cm) to a season best snow record, with as much as 249cm in windblown areas. Similar quantities were found in other Victoria resorts overnight. Bitterly cold and blustery winds also led to substantial patches of drifted snow, with pockets of fresh powder far deeper than reported snowfall measurements in some places, while more stripped snow would be found in others. Lift operations were also impacted in some resorts on Monday 20th August. Perisher (203cm) also saw their largest recorded snowpack since 2004 with 52cm falling over the weekend, allowing the resort to extend its season, something which other Australian resorts may also take advantage of.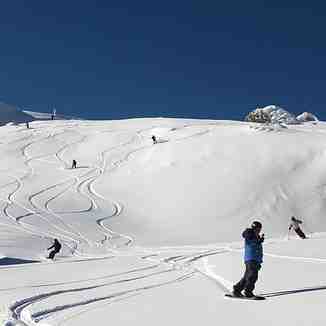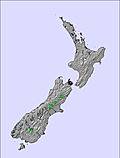 NEW ZEALAND Fresh snow fell Friday 17th, giving a great weekend skiing. Weather variable, Mount Dobson (63/92cm) saw very limited visibility due to snow clouds, temporarily closing the resort. Elsewhere, overnight winds have led to substantially windblown and shifted snow, for example at Mount Olympus (42/100cm). Other resorts reported overnight snow through to Monday 20th, with showers continuing throughout the day leading to some great conditions, for example at Porter Heights (50/90cm), especially on the upper slopes. Treble Cone (144/169cm) continued to boast the largest snowpack on the South Island, following from 26cm on Friday evening. The North Island saw gale force winds, reduced visibility and wild affected snow on Monday 20th August, closing all lifts on Turoa (140/270cm) and all upper mountain lifts at Whakapapa (99/221cm). Expect cloudy snowy conditions to remain in place over the south Isle at least until Thursday, continuing to deliver light snowfall. Further north, expect far more extreme weather, with heavy snowfall that will likely be coupled with winds and reduced visibility.

SOUTH AMERICA Cerro Catedral (20/60cm) saw a couple of instances of light overnight snowfall this past weekend, freshening up the slopes. Following this, the clouds moved off to give yet another beautiful day on Monday 20th August. Chapelco (10/50cm) was less lucky, seeing no new snowfall and a diminishing base depth. With only 10cm of natural coverage at resort level, the majority of snow is artificial. Las Lenas (35/90cm) was much the same, though at least with slightly more natural snow still on the slopes. There is little news from Chile, with the majority of resorts seeing conditions more resembling spring skiing, sunny skies and bright, mild days rather than storms and snowfall. Of our featured resorts, Nevados de Chillan (112cm) was in the best shape thanks to comparatively recent snowfall. Expect little to change between now and Thursday, at which point if the forecast holds there should be some moderate to heavy snowfall across all our featured resorts.