World Snow Overview
We've created this page to help you find the best snow conditions. It combines past, present and future data sources from around Snow-Forecast.com and updates regularly. The Snow Roundup page is updated on Mondays and Thursdays for all major ski resorts. Live Eyeball snow updates are shown in real time when submitted via twitter by our global network of reporters. Resort Picks lists ski resorts from around the world where new snow is forecast, powder is reported and latest snow depths.
SNOW NEWS UPDATED 5 AUGUST 2020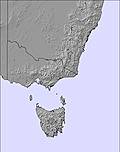 INTRODUCTION It's yet another strange week in the world of winter sports, once again primarily due to the ongoing pandemic.
AUSTRALIA REPORT Sadly, 2020 is really turning in to a season to forget in Australia. First Selwyn Snowfields were destroyed by bush fires even before the season started, now all ski areas in Victoria are closed due to a worsening pandemic, just as much needed snowfall begins to dump down. Two of the areas, which had already closed as a precautionary measure, Falls Creek and Hotham, say they now definitely won't reopen in 2020 having only managed to operate three days this year. Mt Buller and Mt Baw Baw, which have been operating since late June (the latter only at weekend), are closed to mid-September. This is probably due to the state of emergency but they may be able to re-open for the final weeks of the season. What does that leave us? Well, Perisher (30/70cm / 12 / 28") remains open and has 61km of trails open too, the most of any area in the world at present. Thredbo (5/70cm / 2/28") also has its lifts still turning and both areas have had fresh snowfall over the past few days. Ben Lomond, in Tasmania, which has delayed opening due to a lack of snow rather than the virus, now says its season can start this coming weekend thanks to fresh snow in the past few days.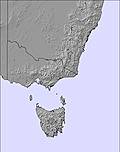 FORECAST Although there have been a few optimistic forecasts that didn't come true in June and July, at least not delivering as much snow as hoped, the latest set of short to medium-term forecasts are looking promising. It's just frustrating that most Australian ski areas will be closed as the snow dumps down. But we are expecting 30-40cm (12-16 inches) of fresh snow for most areas by the weekend and potentially double that by this time next week.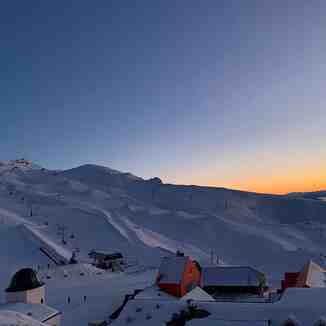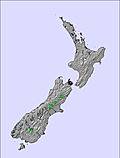 NEW ZEALAND REPORT Although New Zealand is enjoying as close as is possible to a normal ski season compared to any country on earth at present, it is not unaffected by the virus and indeed something we had even before the pandemic, unpredictable weather and snow conditions. Coronet Peak (25/130cm / 10/52") is reporting the deepest snow in the country and some of the most extensive slopes open (36km); that's almost everything. Mt Hutt (25/111cm / 10/45") has a little more skiable terrain though with the full 45km. A couple of areas are receiving grumpy comments from their season pass holders. The Remarkables (55/90cm / 22/36") because it has decided to only open at weekends because of the pandemic. It's proving so popular at weekends it's full by soon after 9 am and season pass holders are commenting they can't get on the slopes at weekends as they're full, nor midweek as its closed. For Treble Cone (127/133cm / 51/54") there seems to be a problem with key terrain being unable to open and it too has been closed in recent days, although it stresses that's temporary.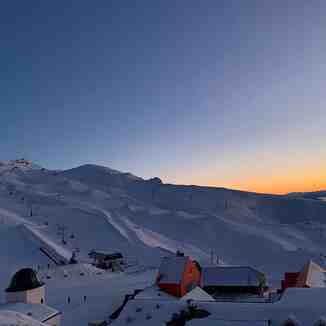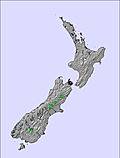 FORECAST It's not been the best of weeks for snow or temperatures in New Zealand; however, the coming week is looking better with fresh snow forecast for most areas. Temperatures look set to head mostly below freezing for most of the time, sometimes reaching double digits below. Seven day totals could be as much as 50cm at some areas.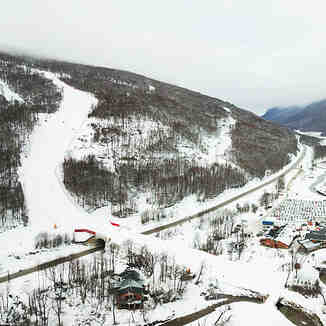 ARGENTINA REPORT It is good to be able to report an improving picture in Argentina with most of the country's leading ski areas re-opening at the weekend for, hopefully, the final few months of the season. It should be stressed that these centres are opening for locally based skiers on a region by region basis as ski centres agree operating procedures with local health services. Chapelco (90/250vm / 36/1002), Cerro Bayo (100/200cm / 40/80") and Cerro Castor (100/200cm / 40/80") were among the areas opening at the weekend, joining already-open Cerro Catedral (95/235cm / 38/94"). It has been a snowy few days in most areas and Cerro Catedral has again been closing frequently. Last week they notified skiers of the plans to do so at least the day before to avoid the danger of people crowding at the base hoping it will open. But that can mean the resort ends up closing when it might otherwise not have done so.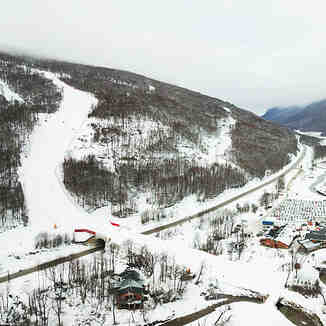 FORECAST It's looking largely sunny for the next 24 hours or so in Argentina but then the snowfall is likely to return with accumulations of up to 50cm more snow possible by this time next week.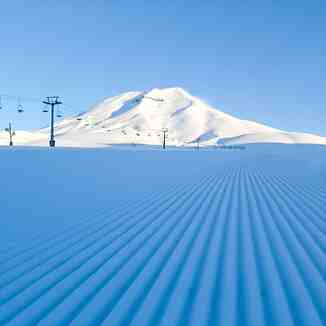 CHILE REPORT Ski areas in Chile remain closed due to the pandemic with no end in sight here, sadly. The country's slopes are deeply buried by snowfall in the first half of this season. Most resorts continue to stress it is illegal and dangerous to go ski touring on their slopes, the danger due to avalanche risk and no rescue or medical services being available during the country's pandemic lockdown.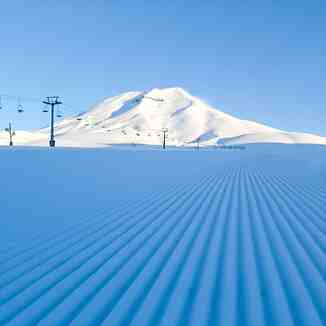 FORECAST After the recent snowfall it's looking more sunny than snowy over the coming week in most of the mountain resorts of Chile, although temperatures should stay low (mostly sub-zero) so little thawing seems likely.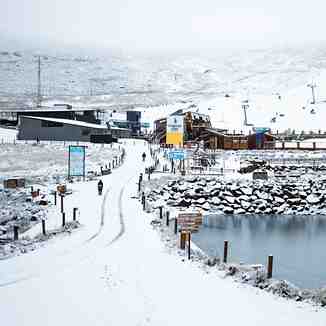 SOUTHERN AFRICA REPORT There's little change on the past week and indeed the past few months as Afriski, in Lesotho, becomes the first ski area in the Southern Hemisphere to manage to clock up two months of operations in the 2020 season. It's been dry and sunny there and the centre remains accessible only to Lesotho locals as the South African border remains closed due to the virus. The main slope remains at 600 metres long. South Africa's sole ski area, Tiffindell, remains unable to open due to the pandemic.
FORECAST It's looking mosrtly dry and sunny for another week but temperatures are colder once more, rarely getting above freezing. Therefore, it looks like snow-making systems will be able to work overnight, if needed.

EUROPE INTRO The big news from the Alps over the past week has been snow! There was up to 40cm (16 inches) of fresh snowfall reported up high on Monday/Tuesday this week as a front moved through the mountains. This meant skiers lucky enough to be on the slopes at one of the six-glacier areas currently open in the Alps had fresh snow to enjoy to start the week. Whether we could describe this as 'fresh pow' is a little more tricky, Passo Stelvio, in Italy, which reported the most snow, described it as 'heavy', meaning texture rather than volume, although there were large amounts too. We are back into single figures for open areas in the Alps for the first time in two months since glacier areas began re-opening after pandemic lockdowns were eased. But August is normally a quiet month anyway and having eight areas open, if most manage to stay open through the month as planned, will actually be an improvement on several recent Augusts when a number of areas in both the Alps and Scandinavia, had to close their glaciers early for summer skiing (in some cases temporarily to mid-September), as it was too warm and snow cover melted away. The two glaciers which finished their 2020 summer ski seasons last weekend were Tignes, in France and the Stryn glacier, in Norway.

ALPS REPORT It is unusual to be able to report in mid-summer that it is snowy in the Alps in August, but that's the case up on the region's glaciers at the start of this week with up to 40cm (16 inches) of snowfall reported on Monday/Tuesday above around 2700 metres. Although Italy's Passo Stelvio (0/180cm / 0/72") was the biggest winner, other glaciers, including Hintertux (95/165cm / 38/66") reported fresh snow too. Several yet-to-open for 200-21 glacier resorts like Stubai and Val Thorens also posted fresh August snow images. The four other glaciers in the Alps still open are Molltal (0/200cm / 0/80"), Les 2 Alpes (0/180cm / 0/72"), Saas Fee (0/220cm / 0/88") and Zermatt (0/220cm / 0/88") although several were stormbound by the bad weather earlier in the week. For most the sun is back out now though.
FORECAST After the recent cold and snowy weather to start this week, which saw temperatures dip as low as 10 degrees below freezing, things will warm up considerably through to the weekend with wall-to-wall sunshine expected and temperatures creeping a degree or two above freezing overnight even at the highest elevations. Currently, though it looks like we may be getting into a cycle with more cold weather and possibly more fresh snowfall for glaciers a week after the snowfall of recent days. The next batch is forecast for the start of next week. That's a bit far off yet for certainty though.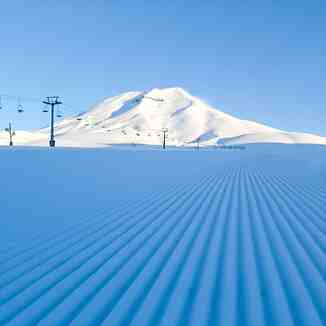 SCANDINAVIA REPORT It's amazing to see how much of the huge base that Fonna (300/400cm / 120/160") had in March-May (peaking at around 15 metres / 50 feet) has melted away over the past few months. It still has the deepest base in the world and everything remains open; however, If ski areas in Chile could open it looks like one or two might be posting five-metre depths on upper slopes so it might have otherwise lost its top snow depth spot if it wasn't for the virus. With the Stryn glacier now closed, the tenth ski area left operating in Europe and the only other in Scandinavia is Galdhopiggen (30/100cm / 12/40"), although it is now posting the thinnest cover in Europe. Both open areas have reported mixed conditions over the past few days with some rain (as well as a thin dusting of snow overnight) and fog and some gloriously sunny days.
FORECAST A real weather and temperature mix, again, forecast for the next seven days with temperatures ranging through around 15 degrees from just below freezing to double-digits above. As a result, the periods of precipitation will mostly fall as rain but sometimes as sleet and snow. There should be sunny periods in between the showers but no clear trend in favour of one or the other. In one word, unsettled.

USA / Canada

NORTH AMERICA REPORT Timberline (0/90cm / 0/36"), in Oregon, continues to be the only ski area in North America open to the general public. It hasn't reported any change in its base depth for quite a while now despite on-going warm, sunny weather and continues to operate just a mile or two of snow slopes. It's also possible to get on the snow at Copper Mountain in Colorado where it's warm too. Here, most people are participating in park camps with a summer park set up on the surviving snowfield there.

FORECAST Another week of mostly warm, sunny weather is forecast for much of the US West. Temperatures should be 15-25 degrees above freezing at the base of the slopes, 5-15 degrees above up high.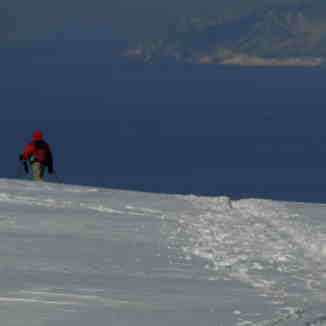 JAPAN REPORT Japan's Gassan summer ski area, the only centre that had still been open for skiers prepared to hike up to the top of the slopes from the chairlift, announced its 2020 ski season had ended as is traditional on the last day of July, last Friday, the 31st.