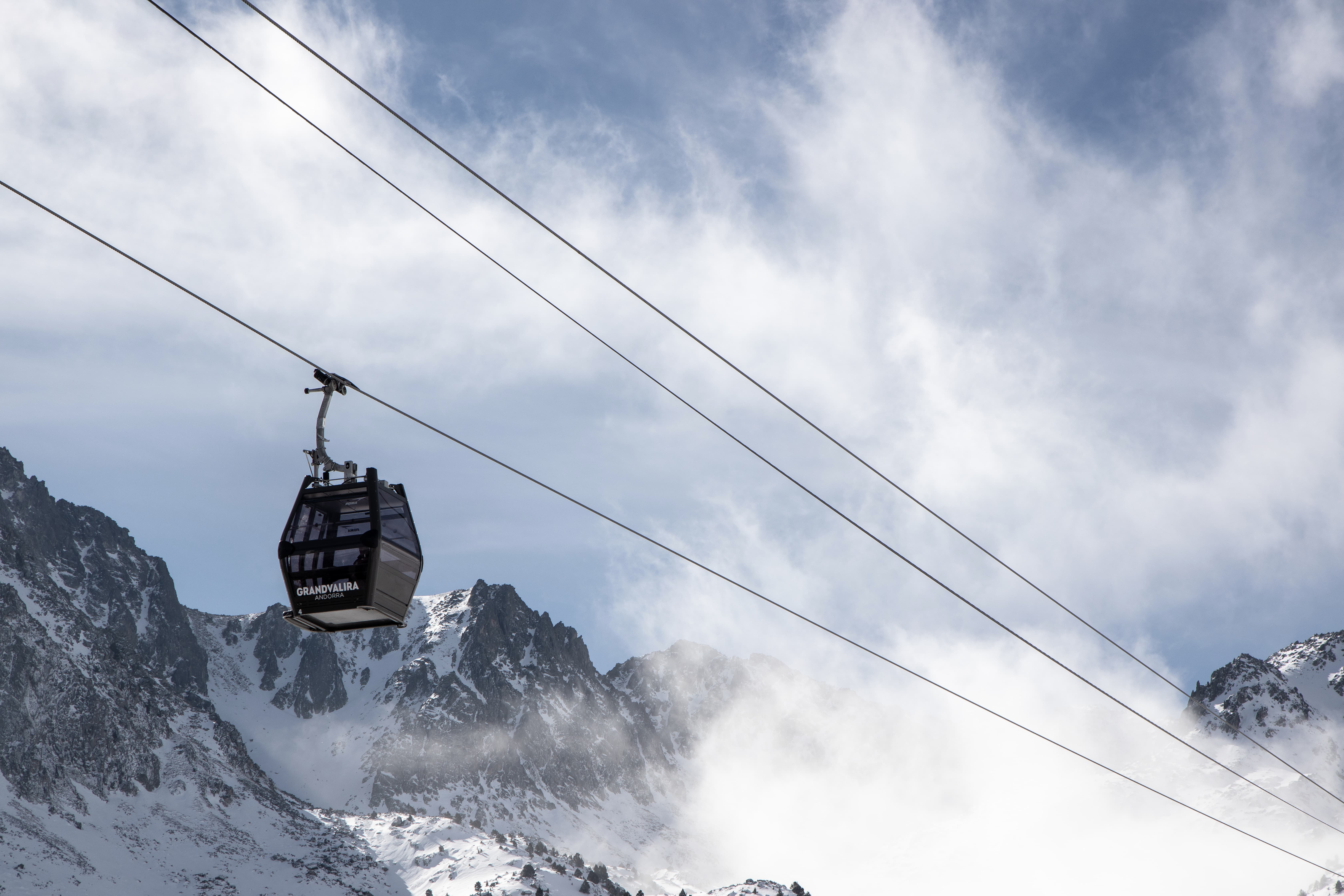 Фото: Grandvalira
Посещение Grandvalira-Soldeu
Полезная информация для планирования вашего визита в Grandvalira-Soldeu
Сезон открывается

—

Сезон закрывается

—

Размещение

—

Рестораны | Бары

20 | 7

Ближайшие аэропорты

Carcasonne (France)

Ближайшая ж/д станция

Hospitalet

Страница информации о курорте
телефон для информации

+ 376 801 060
---
Характеристики Grandvalira-Soldeu
Территория Grandvalira-Soldeu включает::
Хаф-пайпы

1

Парк для трюков

3

Кросс-кантри

Да

Прокат горнолыжного оборудования

—
Какая погода в курорте Grandvalira-Soldeu
In 2002, Grandvalira-Soldeu, was constituted by Soldeu-El Tarter. Now, the two areas are linked with Grau Roig, Pas de la Casa, Encamp and Canillo. Therefore, there are 6 areas in Andorra called: Grandvalira-Encamp, Grandvalira-Canillo, Grandvalira-El Tarter, Grandvalira-Soldeu, Grandvalira-Pas de la Casa and Grandvalira-Grau Roig. Porte des Neiges, in France, will also join the resort, Grandvalira. Nowadays, there are 7 areas of skiing in the same resort. Despite a fair number of new building projects, Grandvalira-Soldeu (Soldeu- El Tarter) retains a good village atmosphere with several excellent watering holes for apres-ski and a good selection of restaurants (and as Andorra is a duty fee zone prices are very reasonable for a ski resort). Accommodation is good at Grandvalira-Soldeu, from the smart hotels near the gondola at the top of the village to more basic apartments down the road. The skiing itself is varied with some pleasant tree-lined runs down to the resort and wide-open pistes higher up. Grandvalira-Soldeu has an abundance of skiing for beginners and intermediates together with some reasonable challenges on and off-piste for experts. Indeed, due to the English-speaking ski school with it's many native English speaking instructors, Grandvalira-Soldeu (Soldeu-El Tarter) is an ideal place to learn to ski or snowboard or to develop your technique.
The statistics are for the whole Grandvalira skiing domain which is now difficult to split into individual resort statistics.
Познакомьтесь с расположением Grandvalira-Soldeu на карте
Интерактивная карта маршрутов и трасс Grandvalira-Soldeu. Изучите трассы и маршруты, а также окружающую территорию и контуры рельефа. Найдите близлежащие курорты и сравните их, кликая на символах курортов.

Последние наблюдения в Grandvalira-Soldeu
Высота
Глубины снега
Температура (°

C

)
Ветер (

km/h

)
Погодная
Верх склона:
Середина:
Низ:
Какой месяц отличается наибольшим количеством выпадающего снега в Grandvalira-Soldeu?
января
В среднем: 3.2 дней со снегопадом в неделю
Самая снежная неделя года в Grandvalira-Soldeu – это 4 неделя января. Число дней со снегопадом в течение нее в среднем 3.2, а за такую неделю выпадает в среднем
31
cm
снега. Смотрите также историю снегопадов в Grandvalira-Soldeu ниже.
Отзывы посетителей курорта Grandvalira-Soldeu
Howard Beanland из United Kingdom пишет:
We first went to Pas de la Casa in 2003, shortly after the Grandvalira ski area was formed by combining two previous ski lift companies. Unfortunately, in the intervening 20 years, there doesn't appear to have been much improvement in the ski infrastructure. Whereas in Austria T-bars have been replaced by heated lifts with covers, and new and upgraded gondolas are common place, the Grandvalira is stuck with lots of slow lifts. This is particularly a problem where the lifts connect one part of the ski area with other resorts. The Assaladors and Solanells lifts in particular could potentially cause problems at busy times. Fortunately for us, it was not too busy in the resorts so we didn't have any problems queuing; it is just frustrating moving at a glacial pace sitting on these lifts, when you could spend more time skiing. The 4-seater Cubil lift at Grau Roig is much quicker, but it's just inadequate to cope with the volume of skiers at any time of day. It should be replaced by a six-seater as a minimum.
Incidentally, the 2023 piste map is one of the worst I've seen. Very confusing and indistinct, largely because most of the map is given over to advertising. We frequently used the piste map we got in 2003 which was much clearer.
There's not an abundance of mountain restaurants. In nearly every case, there's a limited amount of seating indoors with most restaurants relying on external seating for their patrons. This was ok whilst we were there, as the weather was generally good, and we could sit outside. In poor weather, getting indoor seating at lunchtime would have been a real struggle. There are a number of snack bars on the slopes which offer pizzas, hot sandwiches and drinks. Prices are cheaper than in France, but a little more expensive than Austria.
We stayed in Soldeu, which is well placed to access all sectors of the Grandvalira. Access to the slopes is good, and there are several easy return routes, although some of these get a little crowded towards the end of the day. We hired heated ski lockers in the gondola station and whilst these weren't cheap, they were very convenient. Soldeu itself is pretty uninspiring. It's a long linear village on the road between Pas and Andorra la Veilla, so there's always a lot of through traffic.
As for the skiing, it's good for both intermediates and beginners, but rather restricting for those who like their skiing to be gnarly. There's plenty to go at, and enough to keep most people interested for a week.
Смотрите следующие 34 отзывов о Grandvalira-Soldeu или оставьте собственный
Курорты, близкие к Grandvalira-Soldeu
Discover ski resorts near Grandvalira-Soldeu. Click below to view there ski resort guides.